The following letter was sent out by OBG Cocker Rescue group today, 05/30/14,  with regards to the big gala fundraiser, Wigglebutts Go Hollywoof, taking place 09/20/14 in Sterling, Virginia. Check it out and join us!
So often in the world of rescue, we see the worst humanity has to offer. Not a day goes by we don't hear of horrible cases of abused and neglected animals and those that have been discarded as if they were trash. It's enough to make you really question the good in the world. Fortunately, rescue is also filled with stories of hope ranging from the hard work done by volunteers, the wonderful adopters we find for the dogs we rescue and of course, our financial supporters.
ALL donations to OBG, both large and small, are very much appreciated. In fact, one donor that always moves me to tears is the supporter who has very little money, but who will take the last $5.00 she has to her name and donate it to OBG to help the animals. To me, that says it all about her love for dogs and dedication to rescue.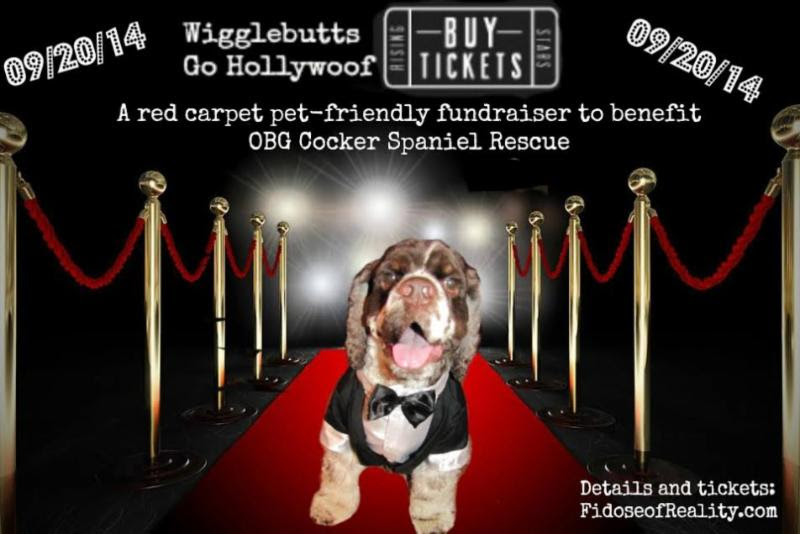 Dexter Bryant, also a Wigglebutt Warrior
There are also those who are in a position to help OBG on a larger scale for which we are incredibly blessed, and the reason for this email today. Carol Bryant and Darlene Bryant are the Wigglebutt Warriors and they selflessly donate their time to fundraise to help save the lives of homeless cocker spaniels. This year, the Wigglebutt Warriors decided to focus all their efforts on raising money for OBG. Their major fundraiser is "Wigglebutts Go Hollywoof" scheduled for September 20, 2014. As part of their efforts on behalf of OBG and for Wigglebutts Go Hollywoof, they reached out to Eldad Hagar of Hope for Paws.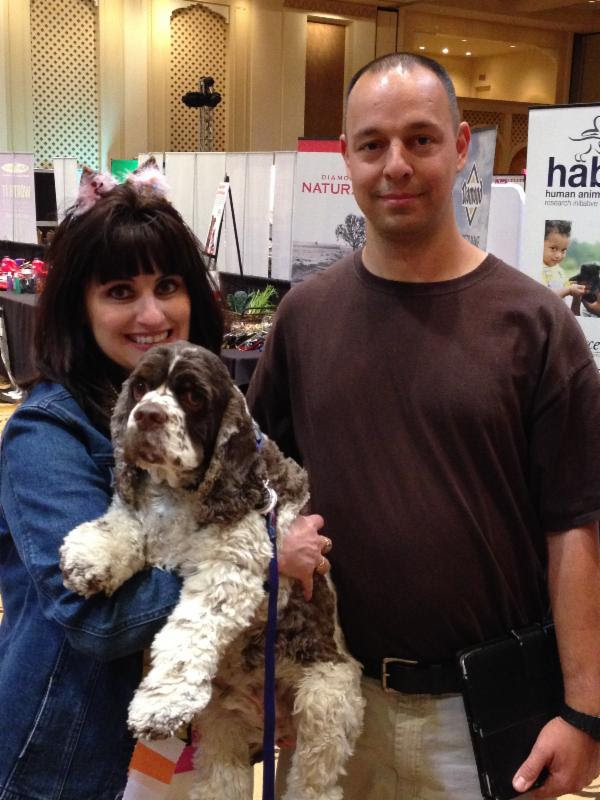 Carol Bryant and Eldad Hagar
The Warriors first contacted Eldad when we rescued the Sweet Sixteen earlier this year. He was so moved by the rescue he arranged for Hope for Paws to donate $16,000 to OBG for their medical care!  Recently, the Warriors again contacted Eldad about the upcoming "Wigglebutts Go Hollywoof" fundraiser. Eldad wanted to show his support for their efforts, so he has donated an additional $10,000 to OBG!!! This is a perfect example of how a fundraiser can start benefiting our rescue even before the actual event takes place. Thank you, Eldad and Hope for Paws!!!
Money is tight for OBG right now and as so often happens, we have to start looking closer at our intake decisions. Can we really take that young, lovable dog that needs the $3,000 surgery on its ears or the one with a broken leg that will need thousands spent on surgery and recovery? When we have money we try to help these special dogs. When money is tight we have to sometimes make difficult intake decisions and turn down dogs because of the medical care they need. Thanks to the Wigglebutt Warriors and Hope for Paws, we can now say yes a little more often this month and save more lives.  
We look forward to making "
Wigglebutts Go Hollywoof
" a huge financial success in September so even more lives can be saved. We also want to make this an enjoyable evening for everyone who attends.
There are only 18 tickets left for sale
, so if you have been thinking about attending but haven't purchased your tickets yet, now is the time! (
Click here to order
).
Lastly, I want to thank each and every one of you for all you do to help OBG stay in business and to be able to continue to save lives. Without all of you and your generosity with both time and money, there would be no rescue. More importantly, there are hundreds of dogs each year that thank you for making it possible for OBG to save their lives. That's what makes it all worthwhile.
Your Friend in Rescue,
Teresa Butler
OBG President
president@cockerspanielrescue.com